For years I've wanted to go to Portland. Even before I'd really done much research on what's out there, I knew it was a city I'd really enjoy. And it's true. I crammed a lot into 8 days, but here's the synopsis:
Saturday
I shopped. I went to the Saturday Market, where I bought a locally printed green Bike/Portland tank top and a couple beautiful handcrafted wooden wine stoppers, and the Farmer's Market, where I was completely overwhelmed by all the produce. It all looked so vibrant and healthy and made me wish again for cooking classes and a big kitchen. I bought raspberries, marionberries (a local blackberry hybrid), gooseberries, currants, some peaches, and some delicious cured pork salami from Olympic Provisions to share with Michael. I also checked out their Nike, Columbia, and REI stores, and a couple smaller shops, most notably Canoe, a home furnishings place with a great design sense.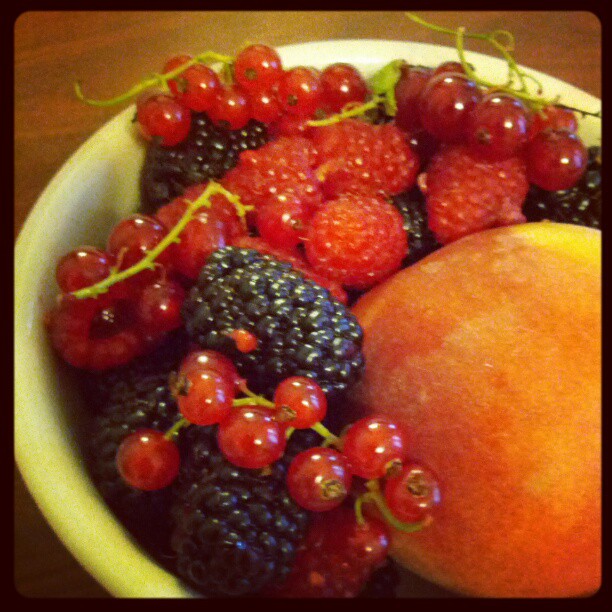 Sunday
I went to Don Miller's church, Imago Dei Community, famously mentioned in Blue Like Jazz. Then a former study-abroad classmate picked me up and we headed to the Oregon coast for the afternoon, which was just beautiful to see, and fun to catch up.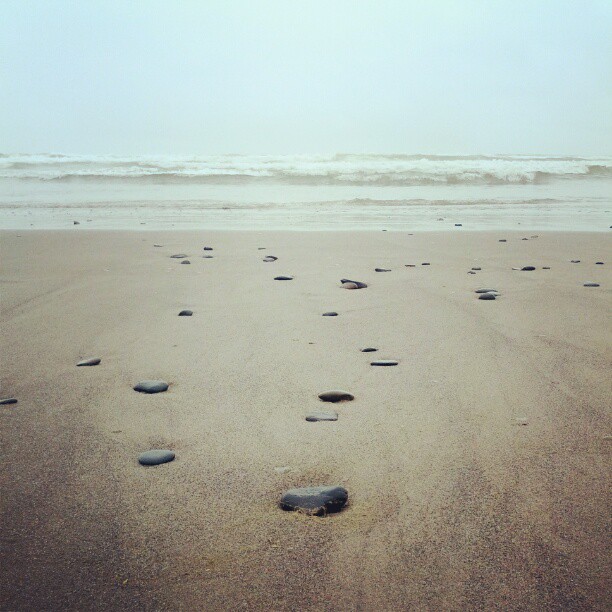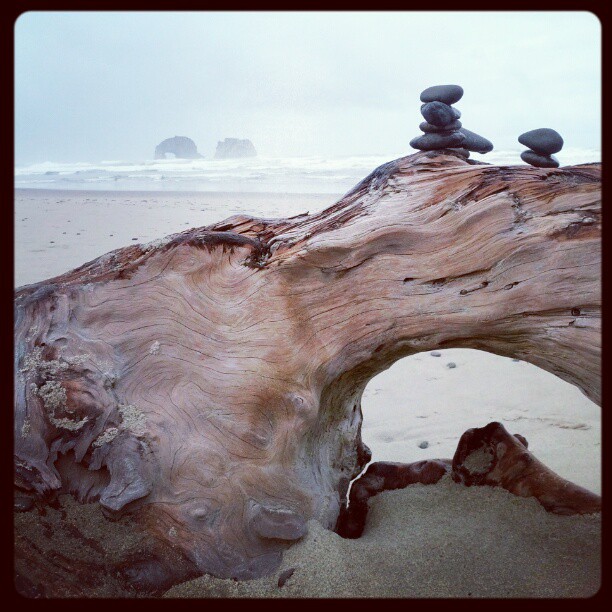 Monday
I rented a bike from the hostel. Immediately I realized I would not be comfortable with someone else's bike; I wanted my own bike that I was comfortable with. So this was the only day I rented a bike! I headed up to the Lief Ericson trail at Forest Park, which is really the only road bike trail in the park. It was a lot of fun, but unfortunately it was blocked off for construction 5 miles in. So I came back into town and ended up stumbling upon what would be my new favorite pizza at this place called Pizzicato, while looking for a bathroom between my Forest Park bike ride and my Springwater Corridor bike ride. Being a former band freak, I was drawn to the name Pizzicato. I had their lunch special—a slice of July seasonal pizza and a side house salad. What's great is that even when you're working on losing a ton of weight, you can still enjoy a really great pizza—just a different kind 🙂 They serve a light, thin crust pizza with some kind of salty something underneath, and the July one I had had a garlic and olive oil sauce base, red and yellow heirloom tomatoes, fresh mozzarella chunks, a balsamic glaze, and basil. (I'm listing the ingredients here mainly so I can try and create my own soon!)
Tuesday
More shopping 🙂 I checked out a bunch of shops in some outskirts-of-Portland neighborhoods that I had read about on someone else's blog that a colleague referred me to before I left. Schoolhouse Electric was a huge piece of eye candy for me, but all I bought was like the world's most giant coaster (a slice of a cork branch). In another neighborhood, at Ink & Peat, I bought a tiny wooden spoon perfect for keeping in my jar of coffee grounds. At Queen Bee, I was enamored by the hand-sewn bags and the crafters making them behind the showroom. I almost bought one, but since they have a website and I was packing lightly, I decided to think about it and order online if I decide to.
Wednesday
I went on a bus tour of the Columbia River Gorge and Mount Hood. Highlights included walking on a piece of the original Oregon Trail (bucket list!). I also learned a lot from the tour guide about the area, the environment, and even salmon (although I won't eat fish). This was a great way to see the mountain and the waterfalls when you don't have a car and also don't want to risk hurting yourself or getting lost alone on a trail. Downside being I really wanted to do more hiking and less driving.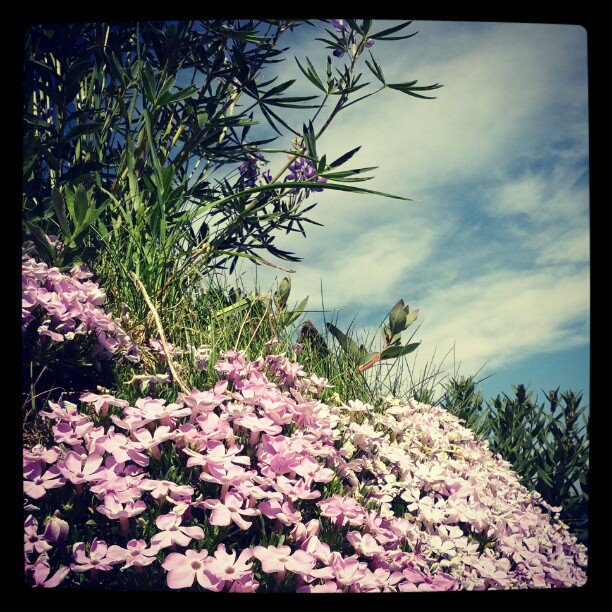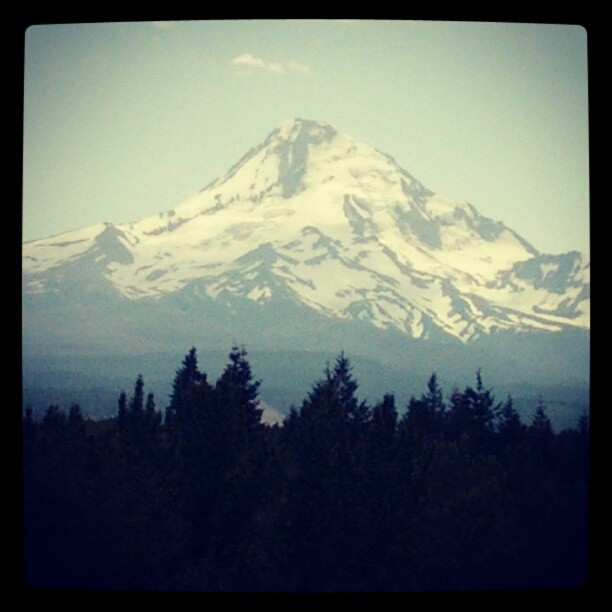 Thursday
I woke up lonely and homesick. By this point, I had gotten my fix of Hannah-time and started remembering how last time I traveled (in Europe) doing all of my favorite things, I wanted next time to share the experiences with someone. It's beautiful to do them on your own, but it can also get lonely after a while. After shedding some tears, the day went nothing but uphill (pun intended) from there. I started out with some vintage and home-type window shopping in the Pearl District and stumbled upon this store called EWF Modern with the most beautiful furniture I'd ever seen—the ultimate in rustic elegance, with the Pacific Northwest wood in clean modern shapes. I almost ordered a coffee table, but since it was very expensive and they have a website (although their website's products look infinitely better in real life), I decided to think on it. Then I headed for the hills of Forest Park and did some hiking along the main (30 miles total; I only did a piece of it!) Wildwood Trail, and by the end of the day had ultimately logged 33,280 steps (16 miles), my highest number ever, on my fitbit. 🙂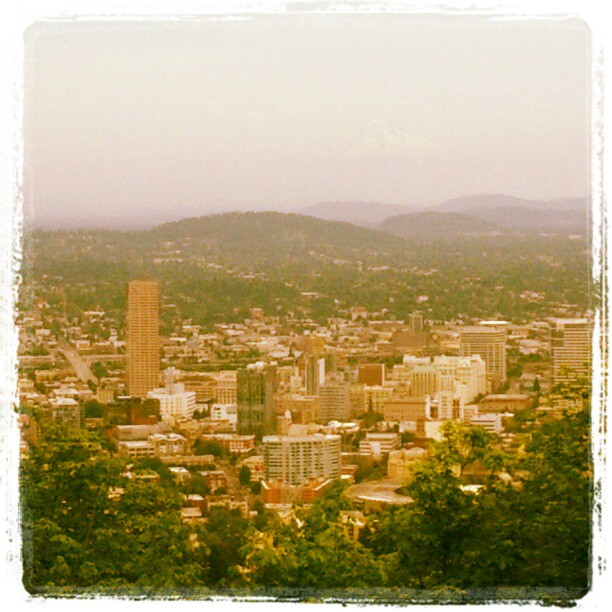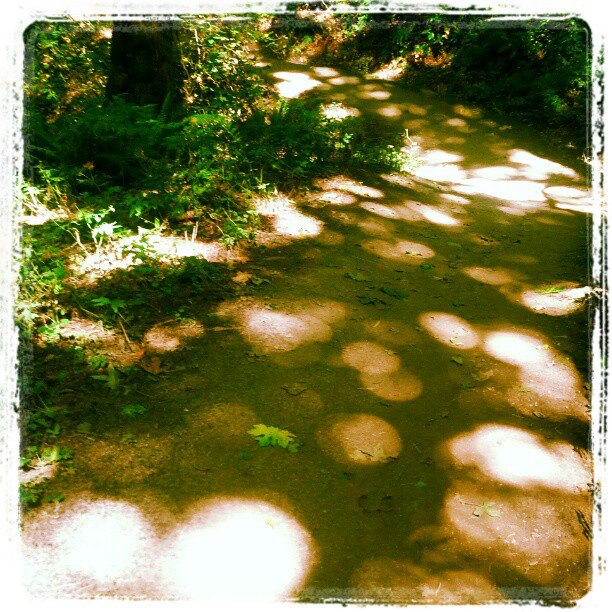 Friday
I took it easy. After packing, I spent the morning at Stumptown Coffee which was really, really great (both the coffee and the relaxing) and then met up with Michael for his conference's closing ceremonies. We spent the afternoon together but he was understandably exhausted and wanted to go to a movie so we went to this supercute local theater called Living Room Theater that serves popcorn in a ceramic bowl 🙂
We spent the weekend home recovering from the trip and the red-eye flight home. I'll see if the week had a net weight gain (from the great food) or loss (from the great exercise) in the morning. (My scale batteries died so I couldn't see this morning.) But tonight I had enough energy for a workout DVD and then pulled my bike off the wall, filled my tires, and got out on my own bike for a quick ride (I only had 30 minutes until the sun set, lol). Much better than the rental bike. 🙂
Stay In Touch!
Get occasional letters from Michael & Hannah.